News
Based on the Resolution of the Government of the CR No. 1262, on the adoption of crisis measures, dated of 30 November 2020, the National Library of the CR renews providing on-site library service to the public from Monday 7 December 2020.
The Rules of Operation of Slavonic Library Reading room
- the number of study seats is limited, seating is arranged so as to secure the required distance between the Users
- there is no obligation to reserve, online & in advance, a seat at the table
- there is a disinfecting agent available at Reading Room entrance as well as at the staff desk
---

Changes in the Delivery and Lending Services Provided by the Slavonic Library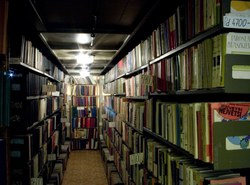 In the connection with the relocation of the collections of the Slavonic Library arising from the revitalisation of the Klementinum, the delivery time of most of the documents deposited in the Klementinum has been extended (with the exception of shelf marks Rd, Rp, publications in the reference library and on open-access shelving).
Because of the reconstruction of the Central Depository in Hostivař, all the collections of the Slavonic Library deposited there have been gradually withdrawn from circulation. They will not be accessible throughout the reconstruction, i.e. probably for the entire year 2014.
Information on document availability and delivery can be found here.
We apologize to all users for any inconvenience that this may have caused.