News
In accordance with a government decree, the Slavonic Library has opened dispensing window. It is possible to issue absentee loans of books pre-ordered through the electronic catalog (SLK database) and return of loans. Books are issued and returned at the service entrance, which is located in the passage to the left of the entrance through which you normally enter the building.
When arriving at the library, it is necessary to call 221 663 356, we will load the books into the reader's account and bring them with a confirmation of the loan to the entrance. If you have books to return, we will take them from you.
Opening hours are Mon – Fri: 10 am - 6 pm, closed on Saturdays.
---
Changes in the Delivery and Lending Services Provided by the Slavonic Library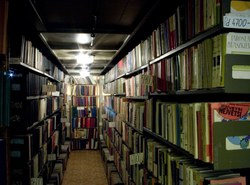 In the connection with the relocation of the collections of the Slavonic Library arising from the revitalisation of the Klementinum, the delivery time of most of the documents deposited in the Klementinum has been extended (with the exception of shelf marks Rd, Rp, publications in the reference library and on open-access shelving).
Because of the reconstruction of the Central Depository in Hostivař, all the collections of the Slavonic Library deposited there have been gradually withdrawn from circulation. They will not be accessible throughout the reconstruction, i.e. probably for the entire year 2014.
Information on document availability and delivery can be found here.
We apologize to all users for any inconvenience that this may have caused.