News
Changes in the Delivery and Lending Services Provided by the Slavonic Library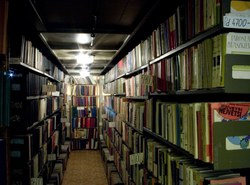 In the connection with the relocation of the collections of the Slavonic Library arising from the revitalisation of the Klementinum, the delivery time of most of the documents deposited in the Klementinum has been extended (with the exception of shelf marks Rd, Rp, publications in the reference library and on open-access shelving).
Because of the reconstruction of the Central Depository in Hostivař, all the collections of the Slavonic Library deposited there have been gradually withdrawn from circulation. They will not be accessible throughout the reconstruction, i.e. probably for the entire year 2014.
Information on document availability and delivery can be found here.
We apologise to all users for any inconvenience that this may have caused.
---
National Library of the Czech Republic - Slavonic Library

invites you to

Discussion about the book Perusing Nabokov. Studies and materials by Andrei Babikov (St. Petersburg, Ivan Limbakh Publishing House, 2019)

Published on the 120th anniversary of the birth of Vladimir Nabokov (1899–1977), the fundamental survey of Andrei Babikov is the result of his twenty-year archival and biographical research.

The event, which will start at 18:00, May 16, 2019, in the main boardroom of the National Library, will be hosted and moderated by researcher of Russian and émigré culture Ivan Tolstoy (Radio Liberty, Prague). Free admission. The discussion will be in Russian language.